We pick up the story where I left off last time in Phoenix Rising…
In 1980, only three years after starting work after leaving school, I was moving into my next position with the Mansfield Sand Group of companies – Specifically Mansfield Asphalt.
Working for a different company was a little daunting at first but I had already developed a good understanding of lab practice, and while the materials where different, I had enough knowledge of british standards, sand testing etc that I soon picked up the processes involved with being an Asphalt Technician.   In those first few months I worked under a terrific boss, very clever & knowledgeable, and we got on very well – that would change in later years but more of that later.
For now I worked with another hard working technician who taught me the ropes, and the short cuts.  My maths continued to let me down in places, there were calculations and equations to work on when testing the asphalt, and while the basics were ok, i could not produce the mental arithmetic necessary to be able to calculate changes to stone mixes for instance,  based on the spread of stone across a series of sieves.   It was simple enough stuff but well beyond my brain at the time.  But at least we had calculators, although something as simple as using M+ was causing me issues.
I shared the lab in the Ratcher Hill quarry with the sand technician, and very soon after joining, I found myself learning his job too, ready to cover for his holidays.  To do this, I had to learn the intricacies of 'winning' the sand out of the ground, processing it through washing plants, drying plants, mechanical sizing and screening plants, and storing or bagging into 50 and 25Kg paper sacks (or, hundredweight and half hundredweight bags as we knew them back then), dependent on type of application.
Controlling the water classification plant, which splits the sand into different sized grains, was an art – almost mystic in nature, and took some getting used to.  The sand technician could dip his hand into the water tank, rather like panning for gold, let the fine suspended sand particles settle in the palm of his hand, and then by rolling the sand between his fingers and thumb (rather like a Colombian rolling a fine cigar between his fingers to check the quality) he would say "hmmm, too coarse" or "too fine" and would make minute adjustments on the pressure inducers on the washing tanks to change the split of particles.   I never really got the hang of it,  it was a fine art and maybe a little blarney, or maybe he just had 20 years experience over me.

This was an ideal position for me – while the foundry had been a good 30 minutes by car (or over a hour and half by bus / walking), Ratcher Hill quarry was just 5 minutes by car from home, and only a 15 minute walk.   And ironically, there was a hospital right next door where my fiancee Sue worked as head cook in the hospital kitchen.   I would often walk through the woods from the lab, sneak into the back door of the kitchen and spend my lunchtime with Sue and her colleagues, and she would make sure I found something to eat as they always cooked in excess of what the patients would require.  Little rolls of ice cream wrapped in paper, in a steaming hot bowl of rice pudding was my absolute favourite.
My boss had a very sensible philosophy which he introduced me too, and it has held me in good stead for the rest of my career.  While still working on the asphalt side of the business, he started placing me temporarily in some of the other plants.  I had a couple of weeks learning how to run the drying plant, and the washing plant (which I already knew quite a bit of) and I spent a lot of time in the bagging shop, where I learned how the pneumatic bag filler worked, and spent many a Saturday morning bagging sand to earn overtime – by now we were saving heavily to buy our first house.

When I had finished, I didn't just know how everything worked in the quarry, but I could also run it all myself.   My boss said this was an important aspect – how could you expect to command the respect of the people under you if you didn't know the job inside out yourself?  And, how would you tell if the men were trying to pull the wool over your eyes if you didn't understand every part of the process?   Since that time, I have always made a point of knowing as much about any process that I manage than the guys operating it on a daily basis.

After only a year at the sand company, Sue and I got married (1981) and set off in our new home, which was conveniently situated on the same street as my mum and dad and Sue's house – our house lay exactly halfway between the two.  We had purchased at a very bad time financially – the interest rate was 15%.   The mortgage payment was exactly my monthly wage, so I paid that and Sue paid all of the bills and food.  We had no money spare, we didn't go on holiday and we couldn't afford to be in the pub every night.   Things were very tight but we were happy.
In 1982 the boss revealed his master plan.  I was asked to move to the main lab at head office, which sounds very grand but it was just another 10 minutes drive into the town, where the brickworks was situated.  I hated it really, the lab at Ratcher Hill was basic but quite new, with proper benches and kitchen cupboards.   At Sandhurst Avenue, the lab was situated in a former garage/workshop, and was cold, draughty, dirty and poorly equipped with old wooden work benches that would have been used by the mechanics.
I was put in charge of foundry sand testing, which required me to test samples of sand coming back from the foundries when they had problems.   I was in my element, many of the sand tests were the same as I had carried out in the foundry lab, and I knew what I was doing.    The sand sales representative would bring in the sands and wait while I tested them.  But unlike the previous technician I didn't just give the results, I would analyse them and suggest where improvements could be made.   Add a little clay, reduce the moisture content, add a little coal dust substitute – the sand sales rep was very impressed with my knowledge and before I knew it, he had suggested that we started offering a new service to our customers – Mansfield Technical Services, and I was the only person providing the service along with the sales rep.  People would call up with various casting defect issues and the rep and myself would load up the testing equipment and drive all over the country to provide on site support.  It was very successful.
By 1985 I had been given the role of group lab manager, which put me in charge of my old technician back at Ratcher Hill Quarry, also the lab at our moulding sand quarry at Berry Hill, the lab at the brickworks, the asphalt lab at Ratcher Hill and also a specialist oil bonded moulding sand processed used for precision casting and jewellery.   Mansbond, as it was known, sold for £1,000 / tonne (a lot of money back in those days) and when I took over we produced 50 tonnes per year.   By the time I moved out of the company, i had built up the business to over 400 tonnes per year, and introduced two additional strength grades.  The turnover on this one product was more than the whole of the turnover of the moulding sands from Berry Hill Quarry.   I was starting to make my mark at the company.


The familiar yellow Mansbond plastic sacks – the production unit was in a garage partition attached to the old workshop.   My office door is the rotting wooden door on the left of the picture.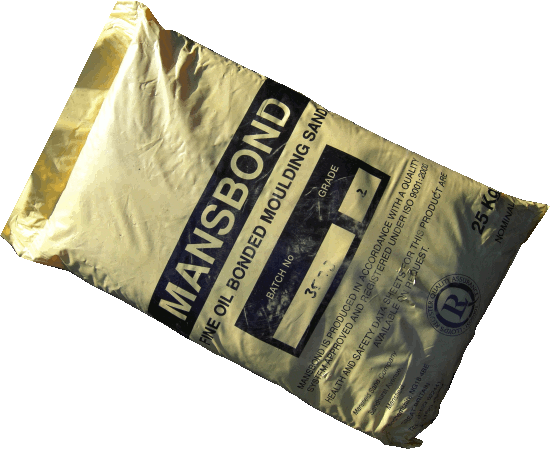 Hard to believe that they are still using the bag that I designed in the 80's including the introduction of three different grades and a batch numbering system for traceability.
In 1990 the company was forced into introducing a new British Quality Standard called BS 5750, which later became the more popularly known ISO 9001.  Actually BS 5750 came in three parts, 1,2 and 3, which were design, production and transport – these were eventually reproduced as ISO 9001/9002/9003.   As we only supplied materials, and didn't really do bespoke designs, we applied for accreditation to BS5750 pt 2, which later changed to ISO 9002.
I was given the job of developing all of the processes and documented systems required to attain the standard, and it took the best part of two years to achieve the standard.  My first task was given to me by the MD of the group at the time, Michael Cannon.  A young man, I didn't have much dealings with him but he gave me the task of convincing his dad, the Chairman Edward Cannon that the company should invest in this new standard.
Now you might think I was tasked with presenting the idea to the Chairman because of my in depth understanding of the quality philosophy, but no, it's because Mr Cannon Senior as I repectfully knew him – or "Ted" as every one else called him –  was a formidable character who filled most people with the fear of god, and basically my boss and the MD (his son) thought it would be better to throw me into the lion's den like some corporate sacrificial lamb.
Completely to their surprise, I had a very nice chat with Mr Cannon Senior, explained the commercial reasoning for the system and the long term risk to the company's future if we didn't embrace this new philosophy, and he was very happy to go ahead. And at that point my title changed yet again to Quality Assurance Officer.   The sand company had always been big on titles, even though sometimes they were only accompanied by more work and little else.
This new way of working , where we actively tried to prevent mistakes instead of just covering them up, did not go down well with many of the managers and I often found myself in conflict with them.    But we attained the standard and I kept it in place right up until I left the department.
Back tracking a little, in 1983 the boss came with an intriguing problem.  He fancied himself as a bit of a horseman, and was set to move up with the posh people and buy his own pony for his daughter.  By some coincidence he was introduced to a local stables owner who purchased our moist sand as a riding surface, but complained about the depth that it rode too – she challenged my boss to come up with a surface that drained like washed sand but acted like a turf surface.
The boss started bringing in various samples of chopped carpet, rubber crumb, all sorts of strange materials that we could try to add to the sand and improve the riding characteristics.  Nothing made much difference until one day he was given a handful of plastic fibres.  We tried some mixed in the sand and the improvement was instantaneous.   After a year of developing the right type of fibre, we rolled out our latest innovation – Fibresand.
It was a tremendous hit in the horse world and was soon in show jump arenas, gallops and racetracks up and down the country.
In 1986 Fibresand was used for the warm up (collecting) ring at the Horse of the Year show, where we attended with a sales booth – I felt very important showing off our new product to all of the major players in the showjumping world.  I was also given an "Access All Areas" stewards badge that really did get me into any part of the show.  A year later and we were at the equestrian show in Olympia – another great moment.  These were very important venues back in the day.   Sue accompanied me to Olympia where we sat in a grand box being served dinner (with a starter of crab which I absolutely hated, and still do to this day) while watching the Christmas equestrian frivolities.  Possibly the first time we had left Stacey with the grandparents, we felt a little guilty and purchased her lots of presents including a very nice padded jacket with ponies and horseshoes on it.  She was still too young to notice of course how much she was spoiled.
Things were developing nicely at work, but there was one more development which would change my life quite dramatically…